Special / Actor's Short Film 3: Itsumade /
Actor's Short Film 3: Itsumade
(2023)
Overview
Media
Episodes
Reviews
Native Title アクターズ・ショート・フィルム3 いつまで
Synopsis
After missing the last train after their best friend's wedding, Ko, Reiji, and Yasumasa are dropped off at a small train station in the countryside.
A teacher, a salaried worker, and an aspiring painter, three people with vague anxieties walk the dark streets at night and pour out their thoughts.
Crew
Music
Promotional images, screencaps, .gifs, etc.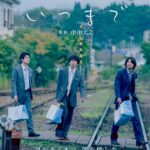 1 Reviews for Actor's Short Film 3: Itsumade
rinnugget's review – Actors Short Film 3: Itsumade
Turn off ads by supporting us on Patreon.