Drama / Cat Street /
Cat Street
(2008)
Overview
Media
Episodes
Reviews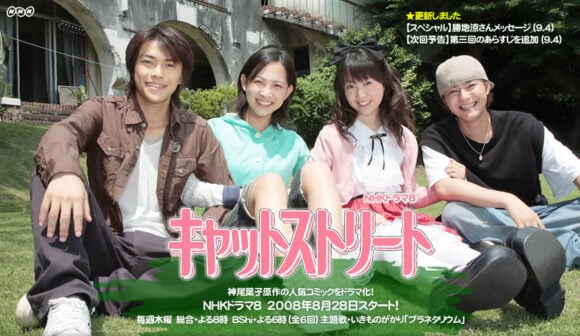 Country
Japan
Season Year
Summer 2008
Air Dates
Aug 28, 2008 – Oct 2, 2008
Episodes
6
Runtime
45
Timeslot
Thursday at 8:00 pm
Network(s)
NHK
Official Site
Licensed
No
Synopsis
A story about a talented child actress who wins back her dream after retiring from acting. Keito was once a popular child actress, but she had shut herself away from society for 10 years after a traumatic acting incident. She is now 17 years old and incidentally enrolls to a free school for dropouts, where she makes true friends. Together, they build trust and find the meaning of life.
Music
Theme Song 1
Promotional images, screencaps, .gifs, etc.
Turn off ads by supporting us on Patreon.