Drama / Q10 /
Q10
(2010)
Overview
Media
Episodes
Reviews
Country
Japan
Season Year
Fall 2010
Air Dates
Oct 16, 2010 – Dec 11, 2010
Episodes
9
Runtime
45
Timeslot
Saturday at 9:00 pm
Network(s)
NTV
Official Site
Licensed
No
Native Title Q10
Alternate Title(s) キュート
Synopsis
Heita Fukai (Takeru Satoh) is an ordinary, but timid, high school student who has no interest in love. This all changes when a new transferee student (Atsuko Maeda) arrives at his school. Heita discovers that the girl is actually a robot named Q10. The duo starts to cause trouble in school, while Heita starts to fall in love with the robot. This is how their story begins …
One day Heita Fukai finds a girl sleeping in the science lab. When Heita touches her, she suddenly wakes up and opens her eyes. The girl was actually brought to the lab by the school's principal Jiro Kishimoto (Takehiko Ono). The previous night, principal Jiro Kishimoto, after a night of drinking alcohol, discovered the girl in the garbage. The drunk principal takes her to his home.
The next morning the principal notices that the girl doesn't breathe at all and he asks for help from Heita's homeroom teacher Tatsune Ogawa (Yuji Tanaka). Tatsune Ogawa recommends that they should hide the girl in the science lab. When they get there, they find Doctor of Engineering Kuriko Yanagi (Hiroko Yakushimaru) in the lab. Kuriko notices that the girl is actually a robot with human looks. A secret does exist within her.
The principal is afraid of a scandal and proposes a solution. They should keep this a secret and under the situation, Heita becomes the caretaker for the robot; not realizing that he has totally fallen in love with her…
Music
Promotional images, screencaps, .gifs, etc.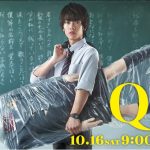 1 Reviews for Q10
carlos12561

October 26, 2023

carlos12561's review – Q10
Turn off ads by supporting us on Patreon.