Drama / Yasashii Neko /
Yasashii Neko
(2023)
Overview
Media
Episodes
Reviews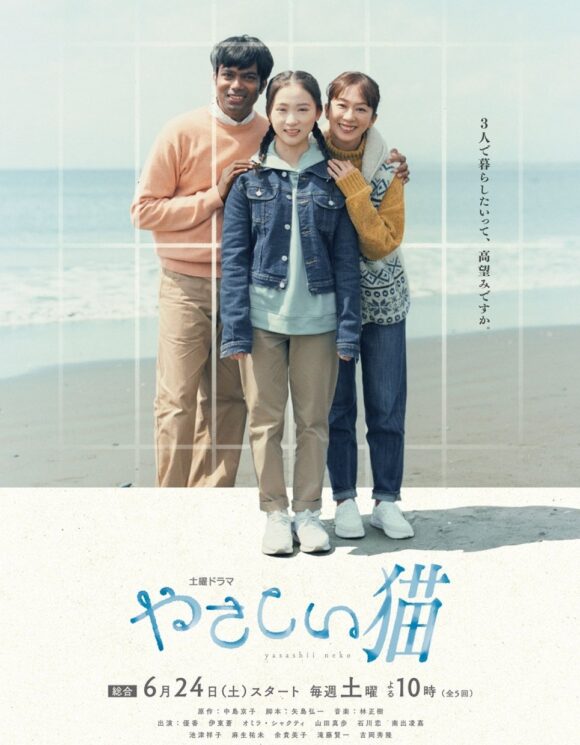 Country
Japan
Season Year
Spring 2023
Air Dates
Jun 24, 2023 – Jul 22, 2023
Episodes
5
Runtime
49
Timeslot
Saturday at 10:00 pm
Network(s)
NHK
Official Site
Licensed
No
Native Title やさしい猫
English Title Kind Cat
Synopsis
Single mother and nursery school teacher Miyuki, visits Tohoku to do some voluntary work in the area devastated by an earthquake. While there, she encounters a Sri Lankan man called Kumar. A year later, the two meet once again by fate. They are gradually drawn to each other and the straightforward and charming Kumar quickly hits it off with Miyuki's daughter Maya too. The three of them begin living together as a family, and soon Miyuki and Kumar register their marriage. Their happiness is short-lived however, as soon after, he is detained in an immigration facility and questioned by police, where he is told he will be repatriated to his home country for overstaying. Feeling angry and helpless about this unfair treatment, they pin their only hopes on lawyer Megumi Koichiro. In order to help Kumar, Miyuki must file a lawsuit to get the decision overturned and obtain special permission for him to remain in Japan. All she wishes is for them to live as a family of three. And so she takes on the country in a battle.
Music
Promotional images, screencaps, .gifs, etc.
Turn off ads by supporting us on Patreon.