Drama / Semishigure /
Semishigure
(2003)
Overview
Media
Episodes
Reviews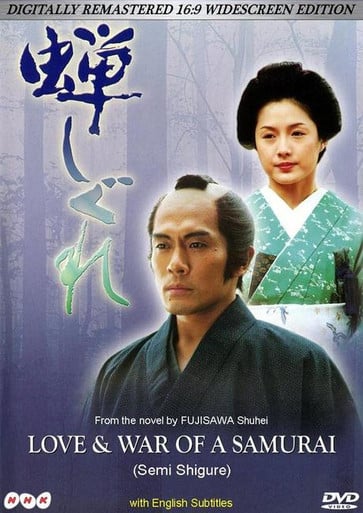 Native Title 蝉しぐれ
English Title Love and War of a Samurai
Synopsis
Based on a novel by Fujisawa Shuhei (author of "Twilight Samurai" and "At River's Edge") this NHK mini-series is a beautiful tale of love and honor against a backdrop of powerful swordplay. Maki Bunshiro's father was forced to commit hara-kiri after being falsely implicated in a plot to take over the clan.  As the family faced humiliation, Fuku, the girl next door was ordered to serve the lord in Edo, thus destroying any hopes they had for a future together. Despite these setbacks,
Bunshiro continued his study of fencing, and became a peerless swordsman… until he met his mortal enemy, Inukai Hyoma, a brilliant swordsman who worked  for the corrupt offical who had leveled the false accusations against Bunshiro's father.
Music
Theme Song 1
Promotional images, screencaps, .gifs, etc.
Turn off ads by supporting us on Patreon.