Drama / Rokuhodo Yotsuiro Biyori /
Rokuhodo Yotsuiro Biyori
(2022)
Overview
Media
Episodes
Reviews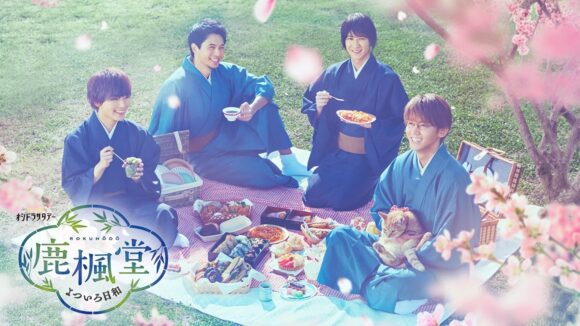 Country
Japan
Season Year
Winter 2022
Air Dates
Jan 15, 2022 – Mar 19, 2022
Episodes
10
Runtime
30
Timeslot
Saturday at 11:30 pm
Network(s)
TV Asahi
Official Site
Licensed
Yes
Licensor Link(s)
Native Title 鹿楓堂よついろ日和
English Title Rokuhoudou: Colorful Days
Alternate Title(s) Rokuhoudou Yotsuiro Biyori, Rokuhodo: Colorful Days
Synopsis
Togoku Kyosui runs a traditional Japanese style cafe called Rokuhodo. He has a tender voice and hardly ever raises it. He is an honest person with a bright personality. At the cafe Togoku Kyosui works with three other young men. They each wear a kimono and serve drinks, meals and deserts to their customers. These 4 men interact with their customers, who all have their own problems, and provide them with comfort. While performing their jobs, they also face their own problems and grow as a person.
Music
Theme Song 1
Promotional images, screencaps, .gifs, etc.
1 Reviews for Rokuhodo Yotsuiro Biyori
retrired's review – Rokuhodo Yotsuiro Biyori
Turn off ads by supporting us on Patreon.