Ossan's Love Japan
Drama
Overview
All Fansubs
Subtitles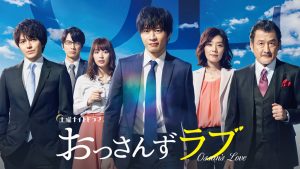 Native Title:
おっさんずラブ
Country:
Japan
Season:
Spring 2018
First Air Date:
04/21/2018
Last Air Date:
06/02/2018
Genre:
Business
,
Comedy
,
Romance
Episodes:
7
Network:
TV Asahi
Official Website
Licensed:
No
Cast:
Synopsis:
Haruta Soichi is a 33 year old salesman who works for a real estate company. He wishes to get married, but isn't very lucky with the ladies. After his mother kicks him out to gain some independence, his life takes a hugely unexpected turn after his boss and his roommate both confess their feelings for him! Who will be his Mr. Right?
List of all available fansubs. Need to copy subtitles-by-fansubbers, remove season/year and add fansubber column.
Will most likely get rid of this tab. Users can click on the links in the 2nd tab "All Fansubs".