Drama / Oishii Kyushoku Season 2 /
Oishii Kyushoku Season 2
(2021)
Overview
Media
Episodes
Reviews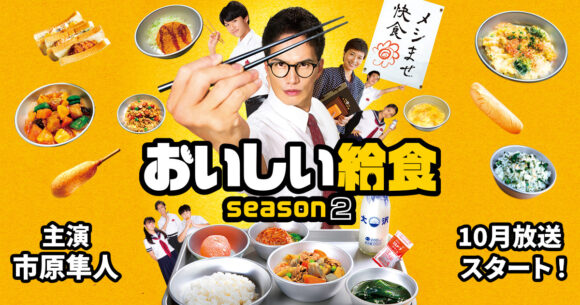 Native Title おいしい給食 Season2
English Title School Meals Time Season 2
Alternate Title(s) Oishi Kyushoku Season 2
Synopsis
Season 2.

It's no exaggeration that Aramida Yukio comes to school for the lunches. While teaching third-grade students at Kibinago Junior High, he spends his days enjoying his favorite lunches. It has been two years since Aramida transferred to teach at a new junior high school. He is still a strict teacher who is tough towards his students. All he thinks about is the school lunch and obsessively checks the menu every morning. This time, a transfer student joins the class he is in charge of. Aramida is horrified to discover it is Kumino Go, a student he had previously been involved with in a school lunch showdown.

A school gourmet comedy that depicts the battle between school lunch fanatics Aramida Yukio, a teacher, and Kumino Go, a student.
Music
Promotional images, screencaps, .gifs, etc.
Turn off ads by supporting us on Patreon.