Drama / Kimi ga Oshietekureta Koto /
Kimi ga Oshietekureta Koto
(2000)
Overview
Media
Episodes
Reviews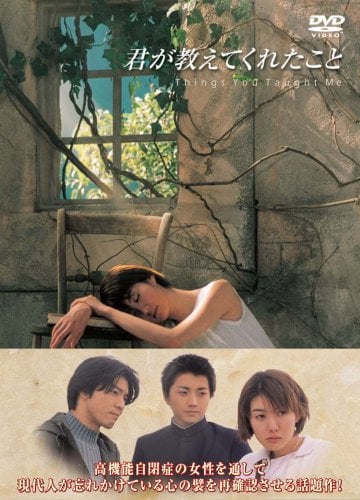 Country
Japan
Season Year
Spring 2000
Air Dates
Apr 13, 2000 – Jun 29, 2000
Episodes
12
Runtime
54
Timeslot
Thursday at 9:00 pm
Network(s)
TBS
Official Site
Licensed
No
Native Title 君が教えてくれたこと
English Title Things You Taught Me
Alternate Title(s) From The Heart
Theme songs:
"Love Again〜永遠の世界〜" by shela

(main)
Synopsis
A young autistic woman, Mayuko, who has difficulty understanding and processing human emotions, meets with a young former psychiatrist, Shinichi, who is still getting over the unexpected death of his longtime girlfriend. Shinichi begins to help her with her skills of human interaction, but as he gets to know Mayuko better, he finds that she may be helping him to remember the feelings of love that he has forgotten in his grief.
Music
Theme Song 1
Promotional images, screencaps, .gifs, etc.
Turn off ads by supporting us on Patreon.