Drama / Hitonatsu no Papa e /
Hitonatsu no Papa e
(2003)
Overview
Media
Episodes
Reviews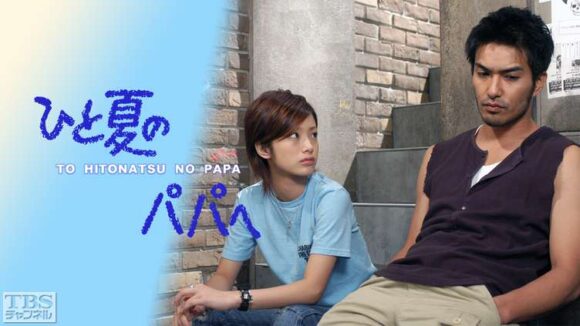 Country
Japan
Season Year
Summer 2003
Air Dates
Jul 2, 2003 – Sep 3, 2003
Episodes
10
Runtime
54
Timeslot
Wednesday at 10:00 pm
Network(s)
TBS
Official Site
Licensed
No
Native Title ひと夏のパパへ
English Title Papa for One Summer
Synopsis
High school student Marimo is left alone to deal with her grief after her mother passes away. After learning the name of a man who appears to be her father, she sets out to meet the man she's never met, but is surprised to discover he is the opposite of everything she could have imagined him to be. A 38 year-old wannabe private detective, her father Shinpei is also shocked to find out about her, and doesn't believe her at first until he sees the paperwork. With their relationship getting off to a rocky start, the two are about to discover just how difficult yet rewarding a father and daughter relationship can be.
Music
Theme Song 1
Promotional images, screencaps, .gifs, etc.
Turn off ads by supporting us on Patreon.