Hana Yori Dango 2 Japan
Drama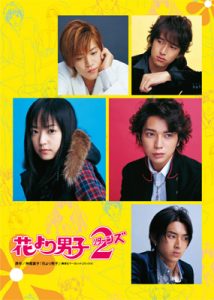 Native Title:
花より団子2
English Title:
Boys Over Flowers 2
Country:
Japan
Season/Year:
Winter
2007
First Air Date:
01/05/2007
Last Air Date:
03/16/2007
Genre:
Comedy
,
Drama
,
Romance
Episodes:
11
Network:
TBS
Licensed:
Synopsis:
This second season of Hana Yori Dango picks up right after Domyoji leaves for New York. After confessing to Domyoji, Makino has not spoken to him for a year. Rui and the other members of F4 try and help Makino meet Domyoji again by going to New York for the christmas holidays. Though F4 and Makino meet Domyoji again, he has become a completely different person, and so they leave for Japan. Some time later, Domyoji's mother annouces that they will be returning to Japan. There, they hold a giant super-rich and classy birthday party for Domyoji and announce something very important. Domyoji, like in the first season, is engaged to a rich girl and heir, Shigeru. The only difference is that they are to be wed soon. What will Makino do?
(Source)
Cast:
Available fansubs:
(,,#゚Д゚) Nothing found!
Media
(,,#゚Д゚) Nothing found!