Hana Nochi Hare Japan
Drama
Overview
All Fansubs
Subtitles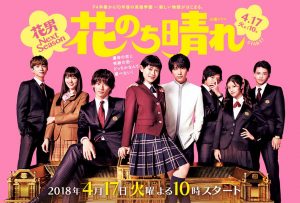 Native Title:
花のち晴れ
English Title:
Boys Over Flowers Next Season
Alternate Title(s):
Hanadan Next Season
Country:
Japan
Season:
Spring 2018
First Air Date:
04/17/2018
Last Air Date:
07/26/2018
Genre:
Comedy
,
Drama
,
Romance
Episodes:
11
Network:
TBS
Official Website
Licensed:
No
Cast:
Synopsis:
10 years have passed since legendary F4 members Tsukasa Domyoji, Rui Hanazawa, Sojiro Nishikado and Akira Mimasaka have graduated from Eitoku Academy. Since their departure, the school has been on a steady decline. Correct 5 is formed at the high school with Haruto Kaguragi (Sho Hirano) as the group's leader. They are worried about the school's steady demise. They decide to find deadbeat students and kick them out of the school. Haruto Kaguragi likes ordering stuff that makes him look bigger physically. He uses his butler's name for his online orders and receives the items at a convenience store. Oto Edogawa (Hana Sugisaki) works part-time at the convenience store. She also attends the same school as Haruto Kaguragi. Oto Edogawa is actually from a poor family, but she pretends to be from a rich family to fit in at school. Her fiance is Tenma Hase (Taishi Nakagawa) and he attends a rival high school.
(Source)
List of all available fansubs. Need to copy subtitles-by-fansubbers, remove season/year and add fansubber column.
Will most likely get rid of this tab. Users can click on the links in the 2nd tab "All Fansubs".