Drama / Hakuba no Oujisama ~ Junai Tekireiki /
Hakuba no Oujisama ~ Junai Tekireiki
(2013)
Overview
Media
Episodes
Reviews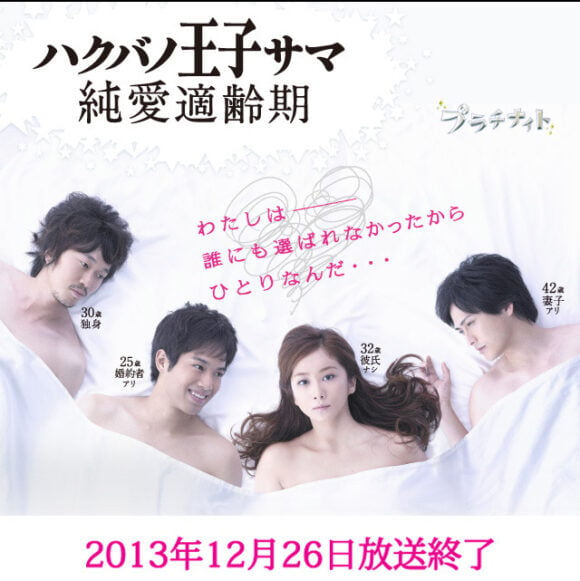 Country
Japan
Season Year
Fall 2013
Air Dates
Oct 3, 2013 – Dec 26, 2013
Episodes
13
Runtime
55
Timeslot
Thursday at 11:59 pm
Network(s)
NTV
Official Site
Licensed
No
Native Title ハクバノ王子サマ 純愛適齢期
Alternate Title(s) Prince Charming Best Age for Pure Love
Synopsis
High school teacher Hara Takako is 32 and has no boyfriend. She is desperate and insecure. One day, a new teacher Ozu Kota, seven years Takako's junior is assigned to her school. Takako takes a romantic interest in Kota and the two of them grow attracted to each other. But in truth, Kota has a fiancee. Seeing the disconsolate Takako, reignites the love of Kurosawa Akio, a senior teacher whom she once had an affair with.
Music
Theme Song 1
Promotional images, screencaps, .gifs, etc.
Turn off ads by supporting us on Patreon.