Drama / Camera, Hajimete mo Ii desu ka? /
Camera, Hajimete mo Ii desu ka?
(2023)
Overview
Media
Episodes
Reviews
Country
Japan
Season Year
Summer 2023
Air Dates
Jul 3, 2023 – Sep 18, 2023
Episodes
12
Runtime
30
Timeslot
Monday at 10:30 pm
Network(s)
BS Shochiku Tokyu
Licensed
No
Native Title カメラ、はじめてもいいですか?
English Title Can I Start With a Camera?
Synopsis
Proper synopsis to come!
Ikeda Mito, a high school girl who lives alone in her apartment, is invited by her older neighbor as a model to her photoshoot, introducing her to the world of photography.
Music
Promotional images, screencaps, .gifs, etc.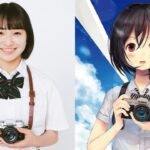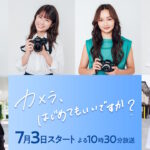 Turn off ads by supporting us on Patreon.