Kyumei Byoto 24 Ji Japan
Drama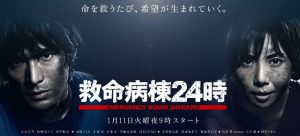 Native Title:
救命病棟24時
English Title:
24 Hour Emergency Ward
Alternate Title(s):
Season 3
Country:
Japan
Season/Year:
Winter
2005
First Air Date:
01/11/2005
Last Air Date:
03/22/2005
Genre:
Human Drama
,
Medical
Episodes:
11
Network:
Fuji TV
Official Website
Licensed:
No
Synopsis:
A major earthquake occurs immediately below Tokyo. This series depicts the members of the emergency room staff, confronting life head on as they give people hope and courage. This popular TV drama series depicts the members of an emergency room team continuing a daily battle to save the lives of people threatened with death. This third group of installments tackles a major theme for lifesaving operations, namely, emergency medical operations in case of a major disaster. The result is human drama on a grand scale. Dr. Issei Shindo, a member of the International Association of Physicians for Humanitarian Assistance, returns from abroad for a short stay in Japan. Dr. Kaede Kojima, who was formerly active as a research physician under Shindo, has now developed into an outstanding emergency room doctor. Meeting Shindo by chance, Kaede announces to him that she will give up her job in the emergency room. Shindo promises her that, before leaving Japan, he will visit her at the hospital and listen to her story. It is when Shindo is on his way by taxi to the hospital where Kaede is working that a major earthquake occurs directly below Tokyo.
(Source)
Cast:
Available fansubs:
(,,#゚Д゚) Nothing found!
Media
(,,#゚Д゚) Nothing found!