Drama / Hyena /
Hyena
(2023)
Overview
Media
Episodes
Reviews
Synopsis
A remake of the original Korean drama "Hyena."
Ichijo Rei is an elite lawyer who works at S&J Law Office, the largest law firm in Japan. Born into a family who has worked in the legal field for generations, his education, income and looks are all perfect. And yet despite this, he is not good with romance and has no luck with women at all.
Yuki Rinko is a female lawyer who comes from a humble background, but has the skill of a hyena who will use any means necessary to win. These two individuals, who are completely different from each other, compete for survival in the cut-throat legal world and fall in love with each other along the way.
Music
Promotional images, screencaps, .gifs, etc.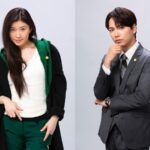 Turn off ads by supporting us on Patreon.