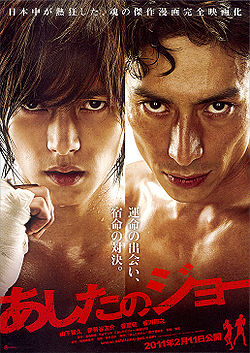 News' Yamashita Tomohisa (25) and director Sori Fumihiko (46) attended a collaborative event with Toshiba for promotion for the movie, "Ashita no Joe" (opening 2/11/2011).
Yamapi lost roughly 8.5 kilograms (18.7 lbs) while shooting for the movie to which he commented, "I felt hungry. But after 3 months you forget what meat tastes like." When it came to sculpting his whole body, he said, "The muscles I used below my lower back and abs in punching definitely shows." Director Sori said, "He was like a moving sculpture… and I almost cried seeing him."
A life-sized version of Yamashita as the title character in "Ashita no Joe" made its way on stage. Both were shocked to even see that sweat was on the figure.