Date: 12/15/2010
The other day, Inoue Mao completed a shoot for Mizuho Bank.
Images of Inoue Mao in a wedding dress will be plastered in Mizuho Bank lobbies and posters and Mizuho Bank's homepage.
As usual, here's a secret shot we took of Inoue Mao during a test shoot!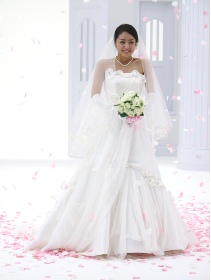 You'll be completely charmed by the image of Inoue Mao walking in a flurry of cherry blossoms while Kimura Kaela's song, "Butterfly" plays in the background…
The group in charge of the shoot was also in director Ue Kazuaki's crew.
Inoue Mao was extremely happy to be reunited with the "Darling wa Gaikokujin" crew!!
Also the wedding dress was designed by Eri Matsui.
They decided on this adult, cute, and splendid dress amongst many contenders.
Thank you as always to Miss Eri and the whole crew!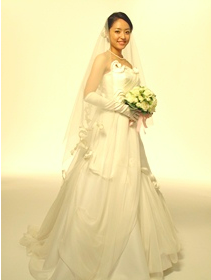 Inoue emits a beautiful and happy aura while we checked the completed movie.
We hope everyone feels the same way when you check it out also.
http://www.mizuhobank.co.jp/